Press Releases
---
www.nink-cs.com
January 24, 2019
0
News
---
Kuala Lumpur, Malaysia, 24 January 2019 — NAMI Corp., via its wholly-owned subsidiary SBS Mining Corporation Sdn Bhd ("SBS"), in a joint venture with JHW Holdings Sdn Bhd, a private limited company incorporated in Malaysia ("JHW"; and together with SBS and NAMI Corp., the "Group") received a sea sand mining licence from the Ministry of Water, Land and Natural Resources (Kementerian Air, Tanah dan Sumber Asli) ("KATS") on 10 January 2019. This mining licence is in full force and effect for 3 years until 9 January 2022.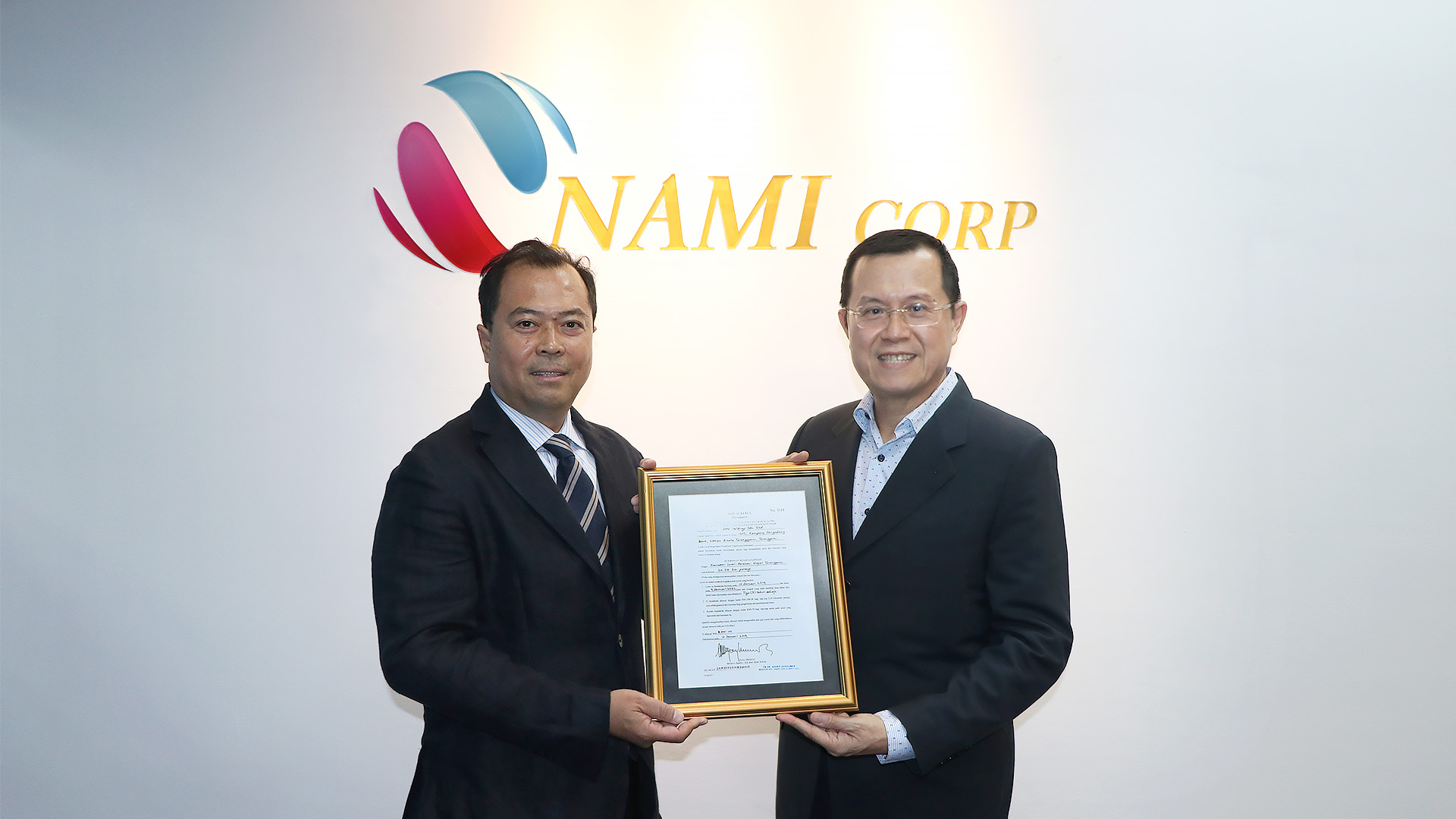 Chairman of NAMI Corp., Tan Sri Dato' Sri Ong Tee Keat (right) and Executive Director of JHW, Encik Syed Najmee bin Syed Nahar Shahabuddin hold the mining licence received from KATS.
The offshore sea sand concession site is located on the east coast of Peninsular Malaysia occupying an area spanning 20.57km², within the jurisdiction of the state of Terengganu, Malaysia.
The Group has fulfilled all regulatory requirements and obtained necessary approvals from all governmental agencies including Department of Environment ("DOE") (Jabatan Alam Sekitar), Department of Mineral and Geoscience Malaysia (Jabatan Mineral dan Geosains Malaysia) ("JMG") and all 13 agencies under the jurisdiction of the state and federal governments of Malaysia.
The Group is committed to comply with all regulatory requirements in the countenance of encompassing and emboldening socio-environmental development. As such, it had initiated a conscientious process in the preparation of Environmental Impact Assessment ("EIA") report which was subsequently submitted in July 2018 and was duly approved by the DOE on 2 September 2018. In addition to preparing the EIA, the Group also obtained approval from JMG on 14 September 2018, and finally, sea sand mining licence was approved by KATS on 10 January 2019.
The various approvals by the authority signify the Group's commitment towards the socio-environment and stringent requirements by all regulatory bodies.
With the approval of the mining licence, the Group is expected to begin its sea sand mining operation in the 1st half of 2019.
The Group has received multiple interests and inquiries on its sea sand, from both domestic and international parties. It looks forward to finalising the sale and purchase agreement with prospective buyers upon receiving the export licence from KATS in 2019.
| Towards becoming a global diversified mining group
In addition to sea sand mining venture, NAMI Corp., via its subsidiary SBS, is specialised in the trade of bauxite, the principal ore of aluminium. It endeavours to export the significant stock in hand in creating values for NAMI Corp.'s performance amidst high international demand.
NAMI Corp. aspires to become a global diversified mining company and is actively engaging in plans to expand by communicating with prospective mining businesses. It is currently in the midst of preparing an acquisition with its related party company in Malaysia for a possible acquisition. The related party company owns a granite mining concessionaire located at the Kampar district within the state of Perak, Malaysia spanning an area estimated at 6.07 hectares (approximately 15 acres). NAMI Corp. envisions finalising the said exercise in 2019.
Together with sea sand mining and bauxite trade, the granite mining venture is a conspicuous step towards NAMI Corp's foray into diversifying and strengthening its mining ventures and becoming a global diversified mining group.
| About NAMI Corp.
NAMI Corp. (OTC Pink: NINK), via its operating subsidiaries, is principally engaged in the acquisition, exploration, discovery, development, mining, and production of mineral resources and properties, specifically, bauxite, sea sand and granite. NAMI Corp.'s expertise in the field places it at the forefront of the industry. Gearing up to be a regional player, NAMI Corp. is committed to creating sustainable growth through responsible mining and delivering results to stakeholders.
Information about NAMI Corp. is available at http://www.nink-cs.com
For Investor Relations:
Loo Ching Lian (Christelle)
Investor Relations Manager
christelle@nami-corp.com
6 (03) 2242 4913
Registered office:
112 North Curry Street, Carson City, 89703-4934

Affiliate Office:
Unit M2-3, Level M2, The Vertical Podium Avenue 3, Bangsar South City, No. 8 Jalan Kerinchi, 59200 Kuala Lumpur, Malaysia
| Forward-Looking Statements
The statement included in this press release, other than statements of historical facts, are forward-looking statements. Forward-looking statement generally can be identified by the use of forward-looking terminology such as may, will, expect, intend, estimate, anticipate, plan, seek, or believe. These forward-looking statements, which are subject to risks, uncertainties, and assumptions, may include projections of our future financial performance based on our growth strategies and anticipated trends in our business. These statements are only predictions based on our current expectations about future event. There are important factors that could causeour actual results, level of activity, performance, or achievements to differ materially from the results, level of activity, performance or achievements expressed or implied by the forward-looking statement, including, but not limited to our ability to win additional business. Although we believe the expectations reflected in the forward- looking statements are reasonable, we cannot guarantee future result, level of activity, performance, or achievements. You should not rely upon forward- looking statements as predictions of future events. These forward-looking statements apply only as of the date of this press release; as such, they should not be unduly relied upon as circumstances change. Except as required by law, we are not obligated, and we undertake no obligation, to release publicly any revisions to these forward-looking statements that might reflect events or circumstances occurring after the date of this release or those that might reflect the occurrence of unanticipated events.
---